It is hard to find a capital city suburb that is not recording price growth.
In regional Australia however, the direction of price movements is far more mixed.
At an aggregate level, median prices are up.
In the case of regional NSW and Victoria, prices are moving quicker than Sydney and Melbourne.
When we look at individual towns, we can see a distinct trend.
If the town is near the beach, it is more likely to be seeing price declines.
Inland regional areas are performing a lot better.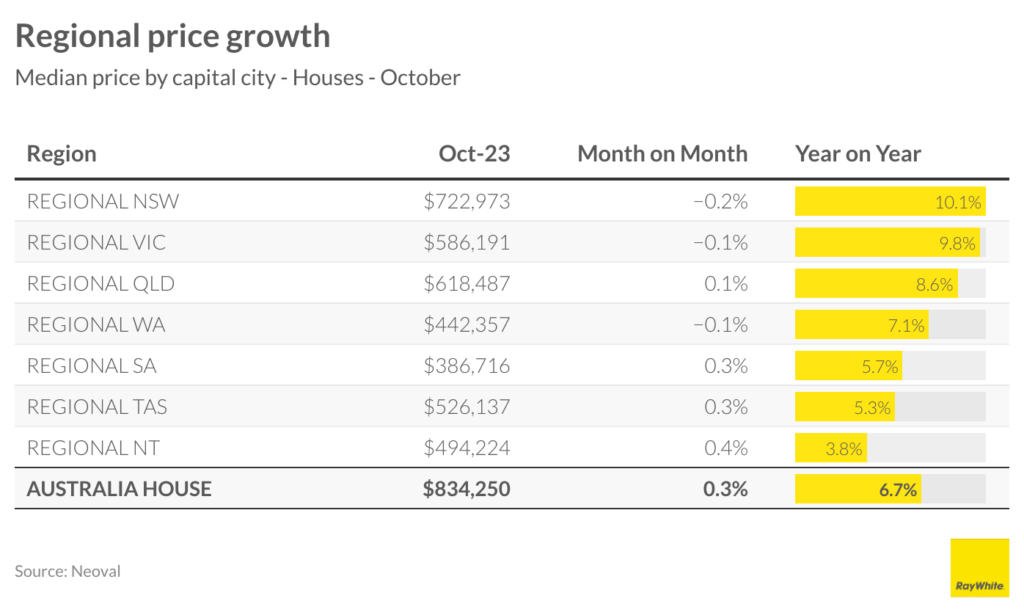 The list of towns seeing the largest declines are predominantly beach holiday destinations and this has now been well documented.
These areas boomed during the pandemic as people bought holiday homes.
As interest rates rose and international travel became an option again, owning a holiday home became far less attractive.
Add in tighter restrictions on short-term rentals and it has made holding such properties far less attractive.
In many of these areas, the number of listings has increased dramatically. 
One exception to this is East Lismore.
While flooding in Brisbane had a minimal impact on house prices, the same cannot be said for Lismore.
The scale of the devastation has led to a significant price drop, particularly in those areas where insurance costs are likely to have now risen rapidly.
The towns seeing the largest increases are predominantly inland and the drivers of growth are far more mixed.
Victor Harbor and Naracoorte are tourism areas and it is likely that holiday home purchases would be driving part of this.
Many of the other areas, however, are more likely to be driven by mining and agriculture.
Collie in south-west WA provides most of the coal used throughout the state, while Port Augusta was historically a coal mining town, but now has tourism and is important in South Australia for solar electricity generation. 
For now, it does look like continued high interest rates will weigh heavily on owners of holiday homes, particularly those that bought during the pandemic.
For inland Australia, particularly those with economies based on high demand agricultural and mining production, it does look like strong conditions will continue.